2-6 juillet 2017 - Potsdam (Allemagne)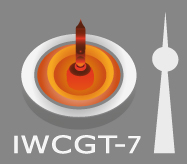 The workshop – the seventh of a series initiated by Hans Scheel in in 1998 – is devoted to Crystal Growth Technology, industrial crystal growth technologies and equipment. The focus lies on preparation of bulk and substrate crystals. Topics of the workshop will include:
Industrial growth technology of silicon and III-Vs (for electronics and photovoltaics)
Growth technology for oxide and dielectric crystals (for piezoelectrics, lasers, scintillators, etc.)
Wide band gap semiconductor substrates (sapphire, GaN, AlN, oxide electronics, etc.)
Emerging fields and technologies in crystal growth
Crucible and equipment technologies
Raw materials, recycling, and efficiency issues
The workshop links R&D to the actual production, bridging science and practice. International experts will present topical lectures with enough additional time for discussions and debate. The workshop will also comprise a panel discussion and poster sessions, including a DGKK poster prize.


For abstract submission and registration go to the offical website.